I'm a caffeine addict. Without much thought, I can easily put away two 20oz. bottles of Mountain Dew, a cup of coffee, and some green tea throughout the course of a busy day. I suspect that I am not alone in this consumption of "mass quantities" and I would guess many, many people consume more caffeine than that on a daily basis.
I have no facts or statistics whatsoever to base the following statement on, but I would bet a good chunk of change that Americans today, on average, consume twice as much caffeine than they did 30 or even 20 years ago. Think about it - twenty years ago had you even heard of Starbucks? Redbull? The closest thing to any of that was Jolt! cola and even though it had a cult-like following, I didn't know a single person that drank it daily. One has to wonder what kind of consequences our speed freak culture will reap from long-time excessive consumption of caffeine.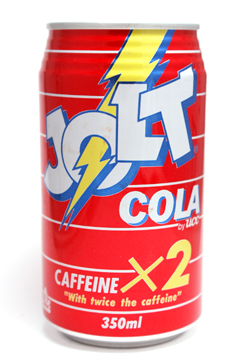 It is no secret that Americans have sleep problems. Certainly caffeine consumption isn't the root of all of them, but it's probably a factor in most of them considering the half-life of caffeine is 3-4 hours. Now, I know I'll get some flack for saying this and everyone will bring up "tolerance" and the "caffeine is the most studied drug in the world" argument, but do we honestly believe that years of overconsumption will have no negative consequences? No consequences to sleep? to mood? to cardio-vascular health?
About two months ago, I was doing some high-rep work with kettlebells - this was after a long day at work with more than my usual dose of caffeine. I was tired after I finished the training session and, honestly, I felt
dangerously tired
. If it's possible to feel "heart heavy" in a very literal sense, that's the way I felt. I have since stopped drinking soft drinks almost entirely - not a small feat for someone who LOVES Coca-Cola and Diet Mt. Dew. I still drink my share of tea and have an occasional cup of joe, but I'm on the road to moderation and plan to stay on it.